Virtually everyone has been impacted by cancer — whether personally or through the battle a loved one is or has fought against the disease, cancer is far-reaching.
For many, it's the fight of their life. And during that time, Gilda's Club Twin Cities is there to help. They offer the social and emotional support proven to improve overall health outcomes - at no cost to those they serve.
"The last thing someone needs when facing cancer is another expense," said Brianna Garcia-Meyers, Gilda's Club Twin Cities Marketing and Development Director.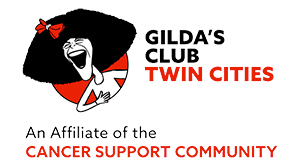 The organization has a simple philosophy: No one should face cancer alone. Gilda's Club is the namesake of the late Gilda Radner, Emmy, and Grammy-winning original Saturday Night Live cast member. When Radner was diagnosed with ovarian cancer, she joked, "Cancer gave me membership in an elite club I'd rather not belong to." It's from that quip that Gilda's Club was founded in 1995, and those they serve are called members.
Gilda's Club Twin Cities is one of more than 40 worldwide independent affiliates of the Cancer Support Community. Located in Minneapolis, Gilda's Club Twin Cities opened its red doors in 2014 thanks to strong community support rallying around its mission.
"Since our grassroots campaign to open the clubhouse, we have been - and continue to be - 100 percent funded by the local community, for the local community," Garcia-Meyers said.
Gilda's Club is predicated on three core principles:
The program is free to everyone, all the time.

Its clubhouse is home-like, warm, and welcoming (as opposed to a medical or clinical setting).

The organization will teach people to live fully with cancer, regardless of the outcome.
Gilda's Club Twin Cities offers a five-part program to support those living with a cancer diagnosis:
Support groups for those living with cancer, their family, friends, and caregivers, those in grief, and those in post-treatment.
Healthy lifestyle classes to teach people how to live fully with cancer, from yoga classes to nutrition courses for chemo patients.
Education workshops that cover a variety of topics, including how to navigate the finances of a cancer journey.
Social opportunities give members an opportunity to gather together and have fun with those who just get it.
Information and referral of resources.
"The last one is particularly important," Garcia-Meyers said.
"Whenever someone comes through our doors needing assistance with something we can't directly provide, we can connect them with a local or national resource and make those introductions," she said. "This limits the feeling of being overwhelmed or lost that so many going through a cancer journey experience. There's never a gap in their care."
In Minnesota, cancer diagnoses are on the rise. Two years ago, Minnesota's annual number of new cancer diagnoses was 30,000. This year that figure is estimated to reach over 35,000 (according to American Cancer Society projections). Further compounding matters is the pandemic: An increasing number of cancer patients are being diagnosed later, which can lessen the variety or impact of available treatments.
"The impact has grown substantially," Garcia-Meyers said, "so there's a huge, huge burden going on in Minnesotan communities."
She added that communities of color face an even greater burden due to the lack of equitable healthcare. Gilda's Club Twin Cities is addressing that by beginning pilot support programs in the African American and Black, Latinx, Hmong, and Native American communities around the Twin Cities and outstate Minnesota. These pilot programs will launch Gilda's Club's strategic initiative to offer support programs for underserved communities facing cancer permanently.
"We know those groups feel it so much more," Garcia-Meyers said. "They have higher cancer diagnosis rates, are diagnosed at later stages, and develop more aggressive types of cancer."
On Friday, June 24, Gilda's Club Twin Cities is bringing back its annual Family & Friends Day for the first time since the pandemic hit in Minnesota 2020. The event is an open house for anyone interested in Gilda's Club to come and see what the organization does, partake in activities, and learn more about Gilda's Club.
Those interested in attending Gilda's Club Twin Cities Family & Friends Day can RSVP here.
At Spave, we are honored to support Gilda's Club Twin Cities in its mission to support those facing cancer. Gilda's Club Twin Cities is working to increase access to care for and support cancer patients and their loved ones. Together, we are working to amplify Gilda's Club Twin Cities' reach, increase its sponsorship, and help it impact even more lives.
We invite you to join us in supporting Gilda's Club Twin Cities. You can set up automatic, recurring donations and/or make one-time contributions to Gilda's Club Twin Cities through the Spave app. Community is stronger than cancer.®
Get more from Spave
Subscribe to our newsletter